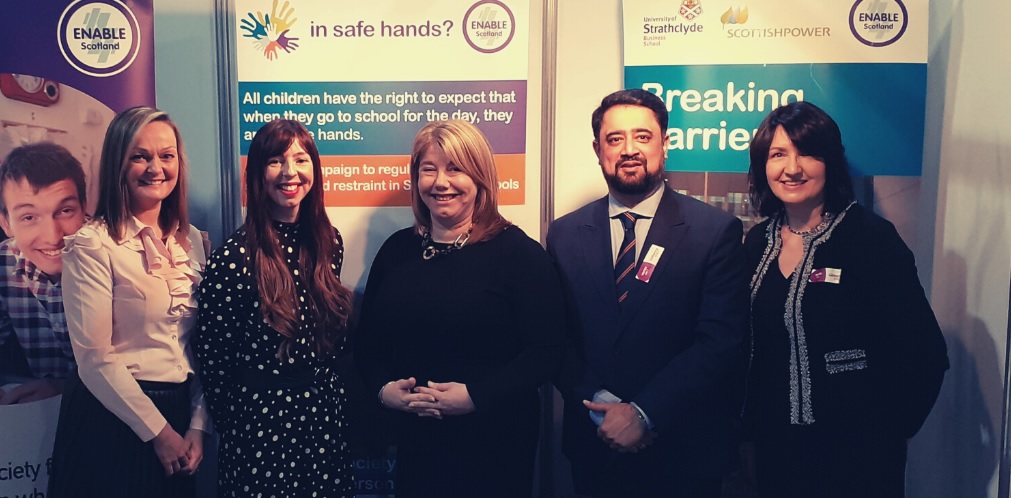 We're interviewing charity leaders pioneering use of digital during COVID-19. We were delighted to speak to Sudeep Chatterjee, Director of Technology & Change at ENABLE Scotland. 
1. Can you tell us a bit more about ENABLE Scotland and your role there?
ENABLE Scotland is the largest learning disability charity in Scotland. Established in 1954, the charity has grown to £50m in 2020/21, employing 2,200 staff who deliver personalised social care, employability and charitable support to thousands of people who have a learning disability and their family carers.
I work with the Piper Group, which provides all essential critical infrastructure to the ENABLE Scotland charity, and I am Director of ICT and Change. My role is to oversee a large scale digital transformation programme that enhances our productivity by delivering the support our frontline workforce need to provide the best quality social care and employability support to some of Scotland's most vulnerable citizens.
2. What changes have you made in digital since the crisis began?
We actually were pretty well ahead of the curve – as a charity, we had made a significant investment of over £1m in our digital infrastructure in 2019/20 before COVID19. We were transforming whilst delivering significantly more to customers. This meant that we had a completely digitally connected workforce across 2,200 staff from the moment it became apparent that lockdown was a possibility.
What the crisis forced was perhaps an acceleration of the pace of change in terms of staff use and comfort with the new systems and software. We had both the upgraded systems and hardware already in place – secure cloud based software, new digital rota management and HR systems were already operational, and all frontline staff had work-issued mobile smartphones, whilst we had completed an ICT upgrade of all laptops for other staff.
We swiftly mobilised remote working, and tested this fully across the workforce two weeks before lockdown. This meant that we could undertake some further updates such as recognising that not everyone is a 'digital native', we developed and rolled out user guides and provided support for staff to adapt and engage with the new software, such as Microsoft Teams.
3. What impact has this had?
Our entire organisation was fully enabled to work from home within two weeks of the start of lockdown. There has been very little loss of productivity – in fact, quite the opposite – and our staff have benefited from being able to interact with their colleagues through the rollout of collaborative tools. Our CEO for example has been engaging daily with frontline staff teams via Zoom calls which has allowed us not only to thank staff for the incredible work they are doing as keyworkers during the pandemic, but also to find out about any challenges they are facing, and allow us to resolve this for them in a real time environment.
Thanks to our efforts, 100% of our workforce were able to work remotely from the first week of COVID-19. Our Rota Management System (RMS) has enabled Digitisation of the front-line, with 50,000 hours scheduled each week across all service areas and automation of reports for better market intelligence and decision making across all service areas
Beyond engagement, for our charitable and employability services which rely on so much face to face and group activity, we have been able to support the swift redesign of our programmes digitally so that we are actually still delivering outcomes for people, and not just using digital to keep in touch. Programmes like ACE Connect , which create virtual opportunities for people who have a learning disability who are feeling isolated during lockdown to engage with a peer group and access support, and our Stepping Up Live service which engages with young people preparing to transition from school to their next life destination, have both demonstrated that we can use digital to ensure that people who have a learning disability can still have choice and control in their lives, even in a more constrained environment.
4. Is there anything you wish you'd known before progressing digital plans when the crisis began? What would you advise charities who need to take further steps with digital?
ENABLE Scotland and the Piper Group had already made the right decisions in terms of investment in digital infrastructure before the crisis began. I would advise all charities now to be looking at their infrastructure – how old are their systems and software, and focus on making sure that they have secure platforms that deliver the best core infrastructure support they need to deliver their business – everyone needs finance and HR systems, and good security around all their systems. This has to be a priority for investment, as it was for us in 2019/20.
Beyond that, the sky is the limit! I would say be creative, and don't always assume that digital needs to mean changing what you do – it actually should empower the opposite. Be clear about your core purpose and how digital can enhance your ability to achieve that. We have demonstrated through this crisis that anything is possible, particularly in a sector which exists to serve the very best of human nature by supporting people to live the life they choose – we have proven that digital can help make staff and people we support feel more connected than ever before.
5. What do you think the sector will look like after the pandemic?
I think it is clear that things will never be the same again. We have learned through this pandemic how digital transformation can help charities, and the people they support, to achieve their outcomes. Beyond using digital as a place to find information as it has been in the place, I think that more virtual services – online hubs, interactive services like our ACE Connect and Stepping Up Live – are likely to continue as complementary offerings, allowing charities the potential to extend their productivity and reach.
Beyond that, remote working, and a blended approach to working remotely and in a socially distancing compliant workplace, will become the norm, and so charities, like all organisations, will need to ensure that they have the digital capacity to make this work. Some charities may find that a reduction in office based costs may allow the sector to invest differently to support this.
6. You've had a really interesting, varied career across different sectors. What would you advise charity digital professionals about how to progress their careers at this time?
It has never been a more important time for charity leaders to be thinking about investment in digital, and so I think that there will be many opportunities for charity digital professionals to progress their careers at this time. Stay relevant, stay connected with peers doing similar roles, and be prepared to think differently – all charities will be preparing to support a much larger member of our workforce remotely, as part of the "new normal" ways of working, and so get planning now for what your organisation needs to do this. I also think it is critical to speak to people at the frontline who are delivering support – they are our most important internal customers and having an understanding of what they need to do their job will always help charity digital professionals to design and deliver the digital support, systems and advice that charities need to do their job well.