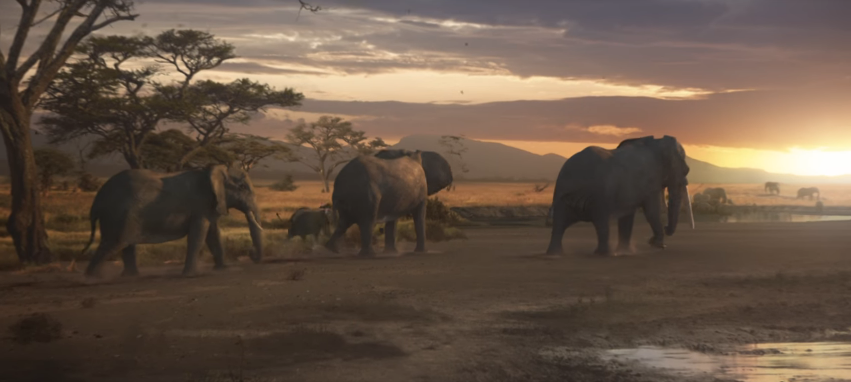 In which we interview Nicola Gee, Social Media Manager, and Katie Parsons, ?Online Acquisitions Manager , both from WWF-UK, about their charity's JustLikeUs campaign 
Can you tell us more about the idea behind JustLikeUs?
'Just Like Us' is our 2017 Christmas TV campaign, which highlights the plight of elephants. With 55 killed every day, for their ivory, the purpose of the campaign is to make the UK public aware of the illegal wildlife trade by highlighting the issues faced by elephants.
For WWF the campaign message represents a new perspective, that of the elephant. We wanted to create an emotional connection between the elephant and the public, and encourage them to join us as WWF members this Christmas. The funding from WWF membership goes to support our work across the world, including bringing down the illegal wildlife trade that is killing elephants.
As well as the TV advert showing the elephant's perspective and how both humans and elephants experience loss, we wanted to explore further the idea of the similar traits humans and elephants have. When researching facts and stories, we kept thinking 'wow, they are just like us, just like us, just like us' and that is how the #JustLikeUs hashtag was born!
How have you gone about creating the content?
Elephants are incredible, intelligent animals and they display emotions that we can all relate to, including grief. They form strong family bonds and they feel devastating loss when one of their own dies. So with 55 elephants being killed every day we thought it would be important to produce content that highlighted the urgency and showed elephants to be 'just like us'.
It was impossible to film the advert itself in real life, as we were essentially recreating the scene of a crime. We worked with Almighty Pictures on creative and production and used the brilliant Time Based Arts to create the CGI elephants. To bring realism and emotion everything in the CGI has to work in perfect harmony. The animal is built with layers of skeleton, muscle and skin just like a real elephant and then animated to mimic its exact movement and behaviour. Often work like this is reserved for feature films so we feel lucky to have had such a skilled team working on this and give up their time to a cause they were passionate about.
Watch the WWF Christmas advert and see the making of our Christmas advert 
Our Christmas advert was the start of our biggest multi-channel campaign; from regular posting on the key social media channels, we also incorporated Facebook LIVE, Donate and Messenger, plus unique channel features such as Instagram polls and Twitter moments.
Using Facebook Messenger on a fundraising campaign was a first for WWF-UK. We worked with EchoMany to serve personalised versions of our advert to supporters who engaged with our advert on social media. This gave them a deeper connection to our work and was a very shareable piece of content that could help us spread our message even further.
Example EchoMany screengrab: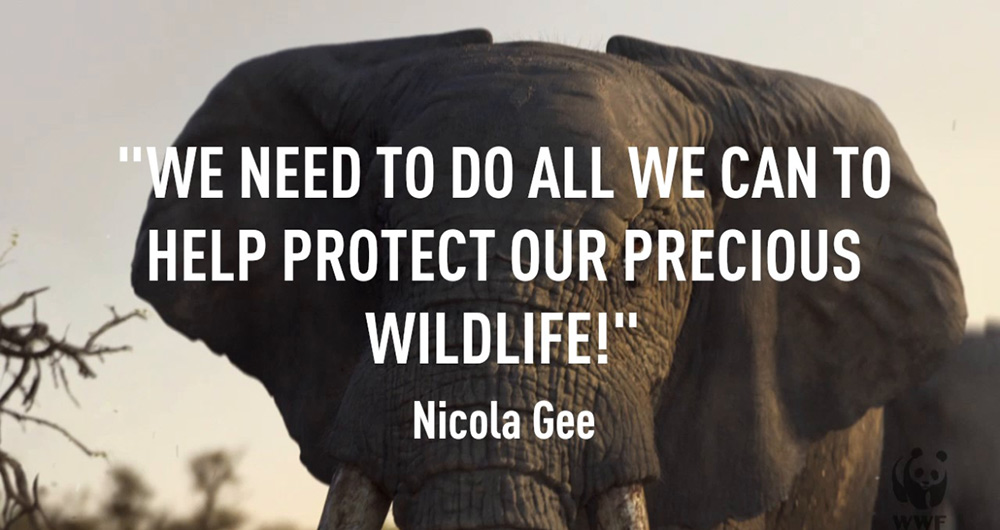 Example EchoMany link: http://justlikeus.echomany.net/comment/?em_id=lPJfcPs2wCN534
The WWF Christmas advert is a powerful piece of content but we knew we needed a lot more 'halo' content to support the campaign. In order to encourage the UK public to help elephants this Christmas, we wanted to remind them why they love these amazing species. We collated short clips of elephants being elephants, and paired them with some brilliant facts on how elephants are just like us.
We also saw this campaign as an opportunity to shine a light on the people (and animals!) helping us protect our precious wildlife. For example, meet Anna the sniffer dog who stole the hearts of our social media audiences! We wanted to demonstrate how there are so many people who, #JustLikeUs, want to help protect wildlife.
Creating videos suitable for social media (short, capturing audience in the first 3 seconds, not sound essential) was also a major part of our strategy. Using this framework, we were able to create simple edits that educated the UK public on WWF's work in a suitable, accessible way on social media.
Where do you think the campaign has the most potential for fundraising?
It can be difficult for WWF to connect the UK public with our work abroad. The habitats and species that we protect are not on the UK public's doorstep. What's unique about this campaign is how we've used the emotion of loss – an emotion that everyone can relate to – to educate the UK public about the devastating impact of the illegal wildlife trade. We've had some fantastic responses on social media as well as TV and other online channels.
What should all charities remember when planning a Christmas fundraising campaign? 
To present something that is simply understood by any member of the public and something that is relatable and comparative to their life.
When planning content for social media, charities need to remember that engaging supporters with the issue is just as important as asking for financial support. You need to give your supporters as many 'touch points' as possible to help them decide to donate to your charity, so don't be afraid to share lots of content without a financial ask – it's all part of the bigger picture!
For example, we hosted a Facebook live quiz with the agency Social Chain where supporters could win prizes if they guessed the correct answer to a question on a Christmas trivia or wildlife fact. We reached nearly 1 million people organically and generated 25K comments. We now have a really engaged pool of people to target our social media videos about our work, so they are brought further into the WWF journey, and the idea of becoming a WWF member.
Watch the WWF JustLikeUs Christmas video.