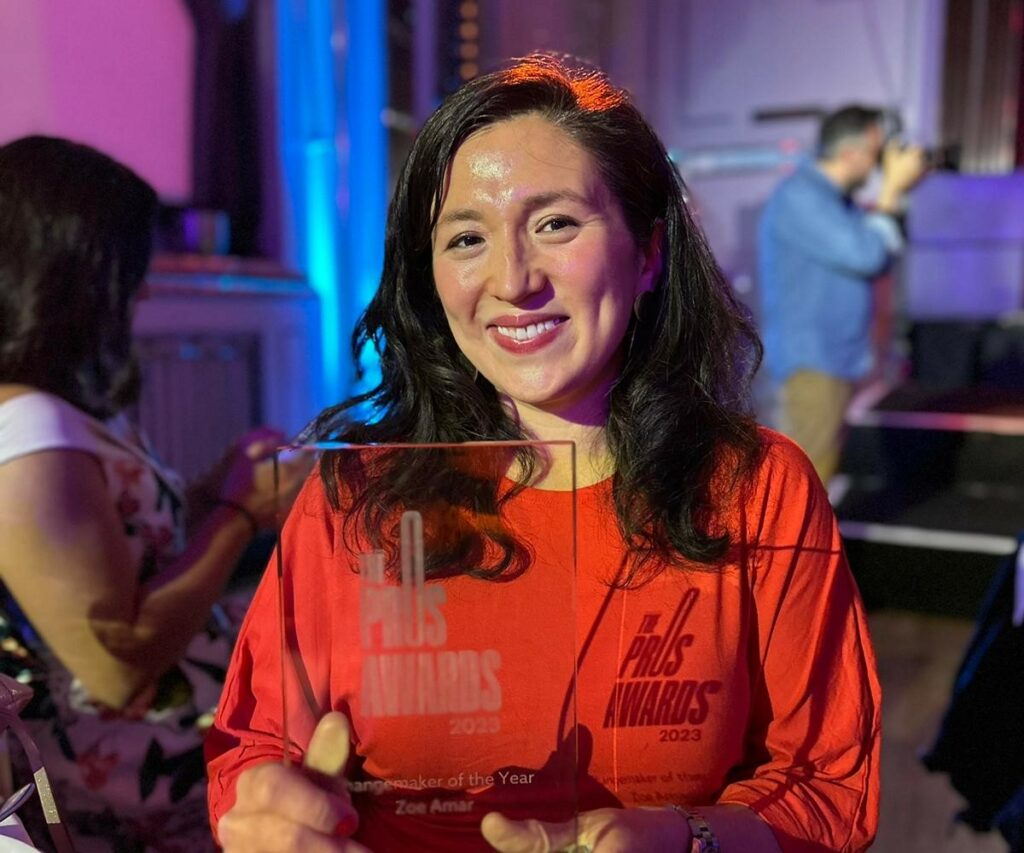 On July 19th, the Bloomsbury Ballroom in London hosted The Pros Awards 2023, the first ever industry awards celebrating Black, Asian, Mixed Race and Ethnic Minority professionals working in PR and comms. Supported by Deliveroo, the awards champion individuals as well as great campaigns targeting BME consumers. In the words of the awards: 'Because representation matters'.
Among The Pros Awards categories is Changemaker of the Year. This category is for individuals making a positive difference in PR and comms, striving for diversity and doing great things in the industry. We are delighted that our founder and amazing-person-in-chief, Zoe Amar, won this year's award!
It is a well-deserved recognition of all the work Zoe does to advise charities on how to embed inclusion into their work and processes. Through her digital strategy consultancy for charities, and her writing and speaking, Zoe champions the need for a more inclusive approach to digital that engages diverse audiences. The award also represents the excellent work of the Zoe Amar Digital team in helping charities embrace digital and take an inclusive approach to transformation.
Zoe is absolutely over the moon to receive the award. She says:
This award represents the amazing work of my team, and the change that so many of us have fought for. I come from the world of digital and there have been so many times when I was the only woman of colour in the room, when I would go home thinking, I don't belong here. But what I wish I realised earlier in my career is that no-one has the right to tell you where you belong. If you think you can make a difference where you are, you are exactly where you need to be. And that is where real change begins.
Everyone in the team at Zoe Amar Digital would like to say a huge congratulations to Zoe. We're incredibly proud of everything she has achieved and continues to achieve as she puts digital at the heart of the charity sector. She inspires us every day. Well done, Zoe!
Photo credit: Alice Rath