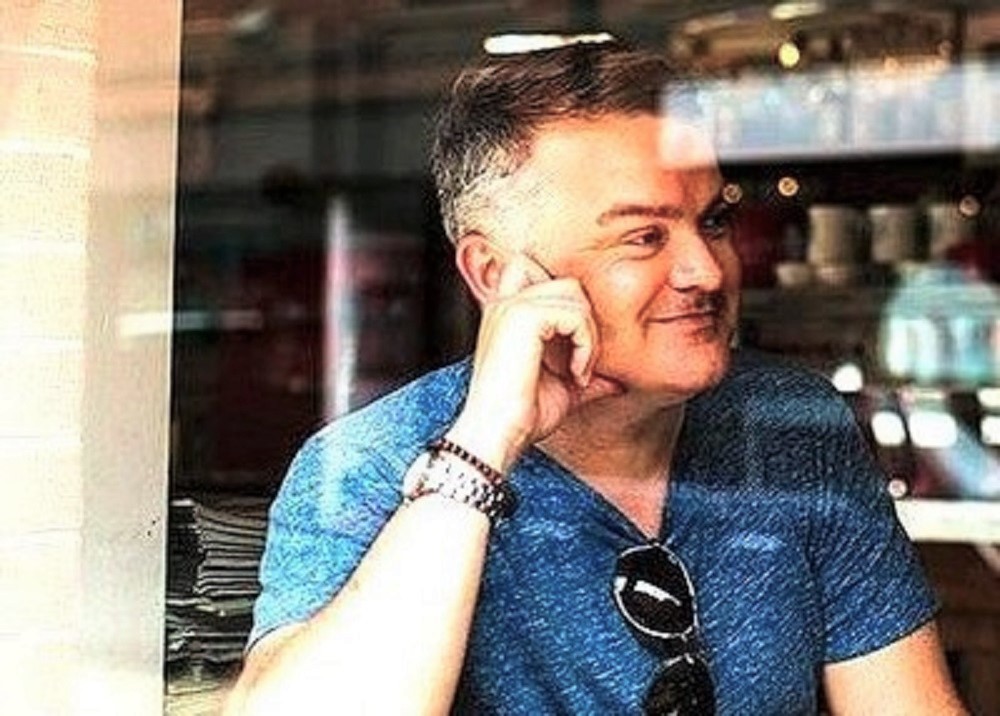 As part of our interview series with charity leaders, we talk to Kevin Taylor-McKnight, founder of Charity So Straight and Queer Trustees. We find out how the organisations are campaigning to support LGBTQIA+ people in the charity sector and make the sector a safer, friendlier and more inclusive place for Queer people to be in, whether they're working, volunteering (including as trustees) or are service users.
1. How did Charity So Straight and Queer Trustees come about and what are you aiming to achieve? 
Charity So Straight was born out of a sense of frustration. I'm a gay man and have worked in the charity sector in the UK for 20+ years. I've seen, heard and experienced numerous examples of homophobia and transphobia – direct and indirect – in the sector, in a range of charities, both large and small, local and national. Whilst working in a previous role, I heard of homophobic bullying in other departments and saw a poster in one of the lifts promoting the local Pride celebrations that had been defaced with homophobic graffiti. This was reported using the proper channels and discussed at the LGBT Working Group but it made the building I was working in feel like a much less safe place to be. It added to the concerns I already had about the culture of the organisation. 
I established the Charity So Straight campaign to highlight that the charity sector is not necessarily always an easy place to be if you are LGBTQIA+. Many charities talk a lot about diversity, but do they really walk-the-walk when your authentic Queer self shows up to work? In my experience, the answer is all too often a resounding 'no'. 
I feel it's important to add that I can only speak to my experience. I wouldn't dream of speaking for all Queer people as we all have a different experience of working in the sector. But, sadly, my experiences are not unique and there are far too many people working in our sector who have similar (and worse) discrimination stories to tell.
Around about the time I was mulling over the idea of setting the campaign up, I was struck by the fact that other campaigns were successfully highlighting other diversity issues (and other important issues in the sector), but NOBODY was talking about what it's like to be Queer in the charity workplace. Identifying as Queer can still feel like the last taboo in so many ways. In 2022, Queer people are so often not even a consideration when discussions about diversity take place. Talking about the LGBTQIA+ community still apparently makes many people feel uncomfortable, including charity leaders.
So, that's why we're here. To tell Queer people's stories and share their experiences, with each other and with a wider audience, to enable us all to learn together and to move the dial on LGBTQIA+ inclusion in the UK third sector workplace. To make the sector a safer, more welcoming place for Queer people to be in, whether they're working, volunteering or are service users.
Queer Trustees is part of that change too. We started the Queer Trustees campaign because we realised that nobody was counting the valuable contribution that LGBTQIA+ people make in the sector every year by serving as trustees. Monitoring of other protected characteristics has become more commonplace in recent years, but nobody was counting the number of Queer people serving on boards and we felt it was time that this changed – time for our contribution not to be erased from the picture. We also want to lift people up and encourage more of them to consider volunteering their time to become Queer trustees, plus help them develop the skills and confidence to do so. 
2. Tell us more about the campaigns and what you're currently working on . . .
I have been joined by my fellow campaigner Lucy Straker. It's great to have Lucy on board as she brings so much sector experience to the table. We've just come to the end of Pride Month, which is a really busy time for all organisations and LGBTQIA+ focused campaigns. We have been talking a lot about Rainbow Washing, which many charities unfortunately still continue to do, and we have an ongoing Proud Allies campaign, talking about how folks can be better allies to their Queer colleagues and to the LGBTQIA+ community more broadly.
Lucy has been busy leading on setting up our Slack community, which has just launched and is going really well. The Slack group aims to be a safe space for all LGBTQIA+ people working or volunteering in the sector to come together to share experiences of challenges they face. It's a place where everyone can learn from and support each other as well as share good news stories and information. It's a place to hear about job and trustee opportunities too. People can sign up here.
In terms of Queer Trustees, we're always highlighting opportunities to our followers. Right now, we're developing our Queer Role Models campaign and around 20 people have come forward to take part in that. It's so important for young Queer people and Queer people considering becoming a trustee for the first time to see themselves represented. The Queer Role Models campaign aims to fill that gap.
3. What actions can charities take, collectively and individually, to be more inclusive to the LGBTQIA+ community? 
Individually, charities need to make sure they have robust policies and procedures to support LGBTQIA+ people in the workplace. That's a great place to start. So, develop all your policies with diversity in mind. If you're reviewing policies, involve other perspectives to help ensure your policies are inclusive and robust. This should include everything from policies around recruitment, employee benefits, parental leave, to reporting and grievances. 
Something both Lucy and I are concerned with is the use of inclusive language and imagery across websites and printed collateral. Also, Rainbow Washing (or Pride Washing) across social media channels throughout Pride Month, which happens a lot. Charities should be mindful not to take part in Rainbow Washing of their charity brand. It devalues their brand if they do it badly and it also erases Queer people's struggle for equality. Instead, charities should meaningfully engage with their LGBTQIA+ stakeholders, internally and externally, and generate content and imagery from those engagements. And do this visibly, so others can learn from their example. 
Consider your use of language across all your internal documents and policies, as well as all your public facing materials. Look at how gendered it is. With images, think about what message you are sending to minoritised communities. How would they know, as Queer people, that your charity is for people like them? You might think your charity is providing a great service to everyone, but how do you know your vital health messaging (for example) is cutting through to that 14% of the population who identify as LGBTQIA+? What could you do differently to ensure that it does cut through?
The next area is around staff training and development. Ensure diversity training is mandatory for all staff, not reserved for senior staff or team leaders. What kind of message are you sending to your employees if diversity is just something that should be 'managed'? This is about a whole range of things, including helping staff identify Queerphobic language and behaviours and how to tackle it and giving them the confidence to do so. 
It's really important to understand where your charity is now on its diversity journey and collecting and understanding your data around diversity is vital. If you don't know where you are now because you don't measure it, how do you know and support your existing workforce? How do you recruit to fill any gaps in your workforce if you don't know what your workforce looks like?
I mentioned earlier the need for effective reporting policies and procedures. It's really important to record incidences of homophobia, biphobia and transphobia. You need to understand if your organisation has a particular issue and have a robust plan in place to deal with this. 
In terms of charities supporting each other and working collectively, charities can and should celebrate diversity within and outwith of their charity. So, shout about your diversity programmes and invite others to learn from your good practice. Work with other organisations and ask them about their diversity initiatives. Also, take part in diversity initiatives that are being led by cross sector bodies.
If you have an HR team but know that the smaller charities in your area don't have this resource, think about how your charity could support their learning. Remain curious and be open about your work and be open to learning from others. Dedicate time to do this work because diversity matters!

4. How can trustees make a difference in their current roles?
There are so many things that can be done to diversify board recruitment. The first thing is for organisations to stop and ask themselves some important questions: why do we want to 'diversify'? What problem are we trying to solve and how will diversifying our board help to solve that problem? The next thing we would suggest is that charities consider where they are on their diversity and inclusion (D&I) journey. What do you know about the diversity of your board as it is now and what would a more diverse board look like? But this isn't about quotas and it shouldn't be a tick box exercise. The road to greater diversity needs to be approached in a meaningful and sensitive way.
The next thing I would say is to ensure you practise open recruitment. Having closed recruitment helps to exclude so many people with protected characteristics, not just people from the LGBTQIA+ community. 
I would encourage boards to ask themselves: 'Are we ready to embrace greater diversity on our board'? This is about making sure that when you attract diverse trustees to join your board, it is a safe and supportive environment for them to be in.
Another practical point I would make is around positive action. Look at where you are advertising your trustee vacancies. If you always advertise in the same place, you will always reach the same or similar audience profile. If you're truly committed to diversification of your board, you need to reach people where they are. What I mean by this is to advertise vacancies in a place where you are more likely to reach people from the communities you're trying to attract, be that the LGBTQIA+ community or other minoritised communities, and this is something we can help with at Queer Trustees.
5. What would you advise charity leaders about how they can lead their organisations in a more inclusive way? What should they do differently? 
The first thing I would say is that leaders need to understand – and value – the benefits that diversity in the workplace can bring to their organisation. Diverse workplaces enable 'different' conversations to take place. Inclusive leaders build teams and enable cultures that value people with different perspectives. They create space and platforms to enable their voices to be heard. 
It's important for charity leaders to ensure the organisations they lead are truly representative of the communities they serve. This is particularly relevant for charities providing a service direct to beneficiaries. 
Inclusive leaders listen to their people and take employees' concerns about diversity seriously. A Chief Executive once  literally said to me, 'Well, homophobia is a problem in wider society, so what do you expect me to do'. I'm paraphrasing, but only slightly. That's not the response of a leader who cares about inclusion or employee wellbeing. 
Inclusive leaders enable their people to take the time to learn about diversity issues and put time and resource behind this. They don't push diversity down the agenda as 'nice to do'. They understand the value it brings. And they don't put it in the 'too difficult' box, because they don't shy away from tackling conversations some people might find 'difficult'. 
What this looks like in practice will of course look different in every charity. It could be about supporting – or championing – the development of a diversity working group (or groups) or ensuring that D&I is part of your organisation's mandatory training (and a priority for everyone in the organisation, not just senior leaders or team managers). This is about leading by example and being visible in your allyship. 
This leads me to our #ProudAlly campaign. Diversity isn't a concern just for charity leaders. Everyone can become an ally to their LGBTQIA+ colleagues. There are some simple steps you can take to become a better ally, including educating yourself, speaking up when you hear discriminatory language in the workplace or by being proactive about finding out about reporting processes at work. You don't have to identify as gay or trans to report homophobia or transphobia. Of course, it's for charity leaders to ensure that they have robust reporting processes in place and that when things are reported, they take appropriate action. 
Lastly, it's important to remember that diversity and diversifying your workforce is a journey and we're all somewhere on that journey. It takes time, resource, commitment at senior level and buy-in across the business in order to be successful. Always be open and honest about where you and your organisation are right now. There's nothing wrong with saying we aren't quite where we want to be on our diversity journey, it's just important to continue learning and to take meaningful action to improve. If you approach this journey with an open mind and compassion, everyone wins. 
On Twitter: @StraightCharity and @QueerTrustees. Or email charitysostraight@gmail com.