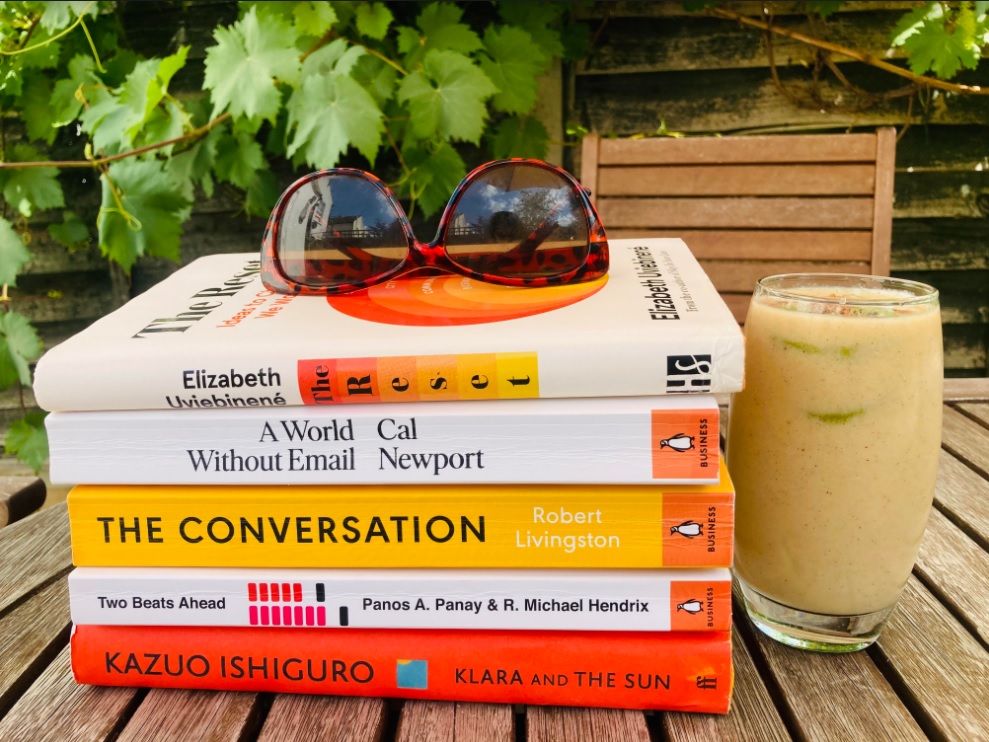 It's finally summer and hopefully you've got some time off planned, whether you're heading to a beach in Dorset or a deckchair in your garden. To help you relax, unwind and make the most of your break our team have pulled together a list of the books we've enjoyed recently, which we have also reviewed on the latest episode of Starts at the Top.
Paul Thomas, digital consultant, recommends the following:
"I think we've all seen way too much of our own four walls over the course of the last year, so much of the entertainment I seek out is about escapism. I'm a big gamer, when I get the time, so escaping into new worlds for days on end is where I find my happy place, so my first choice is a novel, Klara and The Sun by Kazuo Ishiguro. It's the story of an AI companion in a near-future world enhanced by technology and artificial intelligence. Josie is a teenage girl, enhanced, we learn, by tech. Klara is her AI companion and the book is told from Klara's perspective as a study in what it means to be an aware and sentient being. There are issues of class and how technological poverty may hold some of us back in the future that really resonate with the world we occupy today. I really liked the different relationships the main characters had with Klara – distrust and fear, but equally reliance and love – ultimately a tale about the lengths we will go to to save a loved one. 
I have a funny relationship with 'Business Books'. I have a feeling most of them could have been short essays, or blog posts – making one strong point, maybe two and a couple of key takeaways to help us bring the idea to our work. So I was blown away by Two Beats Ahead by Panos A. Panay and R. Michael Hendrix, not only because it perfectly bridges the gap between my first love – music, and the world of work, but it is also full of great ideas. 
The book is cleverly split into chapters named for musical motifs such as 'demoing' and 'mixing' and each chapter is packed with examples of how the world of work can learn from the way musicians and producers approach their process. Beyoncé, Pharrell Williams, T Bone Burnett, Bjork and Radiohead – are all key use cases to show us how a musical mindset can act as a new framework for approaching innovation and I just loved it! So much so that I'm thinking of changing my job title to 'Producer' – a role that facilitates creative expression in others, creating conditions for others to do their best work – inspiring! Also worthy of mention is that the book encourages the reader to assimilate the information they have read by offering up a playlist of music at the end of each chapter. 
My final book is by one of my favourite artists of all time and also someone who appears in Two Beats Ahead – Jeff Tweedy of Uncle Tupelo and for the last 25 years, Wilco.Jeff Tweedy's How To Write One Song  is an ode to creativity and challenges all of us to do something creative every day. Yes the focus is songwriting and Jeff's own writing process, but it is in breaking down this process into component parts – intentionality about setting aside time to work creatively, clearing all mental and physical obstacles to developing the right frame of mind and building the habit by putting in the work in everyday – that makes the book an inspiration for writers, artists or anyone with the ache to be more creative. I particularly like the middle section of exercises and techniques to help the reader "hot-wire language". A great companion-piece to Two Beats Ahead and check out Wilco's Yankee Hotel Foxtrot from 2002 for the greatest example of Jeff's songwriting in action."
Zoe Amar, our Founder, tells us what's on her reading list:
"After a year of intense remote working, I was so pleased to come across A World Without Email: Find Focus and Transform the Way You Work Forever by Cal Newport. It's a very timely read as we all recharge our batteries this summer after a sustained period of digital overload. Adobe reports that at least 3 hours are lost per day to email and in 2019 the average worker was sending 126 business emails a day- or one every 4 minutes. How shocking is that?
Newport argues that this creates an 'always on' hyperactive hive mind which means you are constantly context switching between tasks. This is bad for productivity and efficiency and means that we don't have the space needed for creativity. As well as diagnosing the problem, Newport's book is full of practical advice such as how to rethink how you work so you're not at the constant mercy of pinging Slack and email alerts, and how to prioritise and organise digital channels and tasks. It's a survival manual for the modern workplace. 
I talk to a lot of leaders who are keen to do more to improve equality, diversity and inclusion, but who worry about having the challenging conversations that will create the change they seek. I found The Conversation: How Talking Honestly About Racism Can Transform Individuals and Organizations by Robert Livingston very helpful as a guide to how to do this. Livingston advises having clear, direct, bold and unapologetic conversations, but also not to be afraid to listen to others' points of view. The advice in this book will also help lay the groundwork for any kind of difficult conversation and create the psychological safety for people to do it in an open and honest way. 
The summer is always a time when we take a step back and think about the future. A great way to do this is to read The Reset: Ideas to Change How We Work and Live by Elizabeth Uviebinene. It's an excellent analysis of the way in which we all live and work has changed over the last year, and why we need to see it as an opportunity for reinvention. Uviebinene asks a series of wide ranging questions about this, from what we want from employers and leaders to how our cities and our communities need to change. There are plenty of challenging ideas in here and I found the section on organisational culture and how we need to flip it from something that is defined by those in charge to those at the grassroots especially thought provoking. 
We hope you have a restful summer break. What are you reading over the holidays? 
Hear more about Zoe and Paul's top summer reads in their special episode of Starts at The Top.