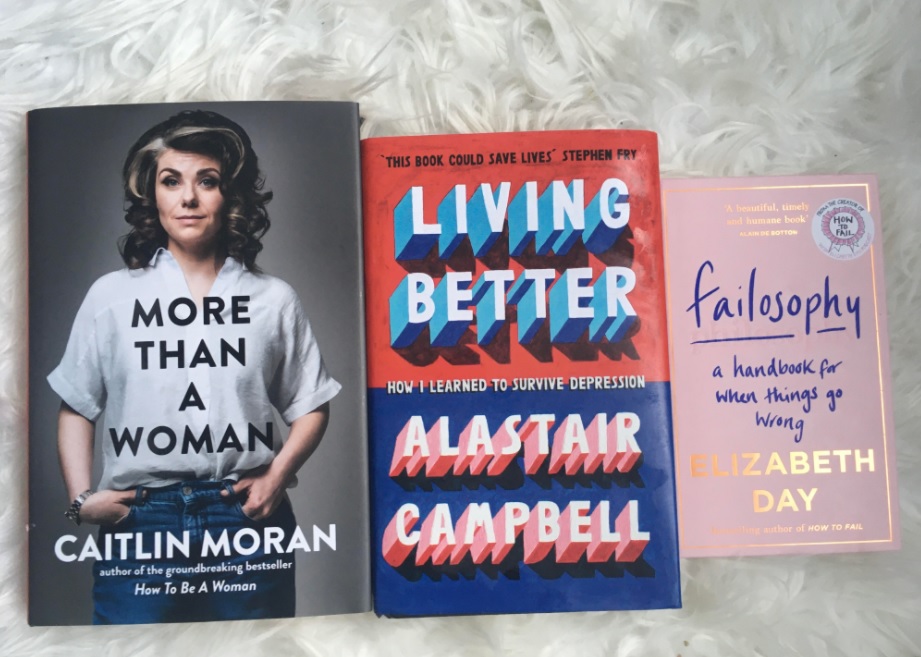 2020 has been a huge test for leaders. Whether it's fighting for the survival of their charities as fundraising income falls, looking after their teams when many may be sick, grieving or feeling isolated when working from home and finding new, creative ways to support the people they serve using digital there has been a lot on everyone's shoulders. Inevitably this can take a toll on mental health and wellbeing.
This World Mental Health Day I wanted to share three new books which have got me thinking about how to reframe challenging situations. Whilst leadership can be a lonely job, these books provide comfort and reassurance and help me look at the omnishambles that is 2020 differently.
Living Better: How I Learned to Survive Depression by Alastair Campbell
This is an honest, open story about living with depression. Campbell takes us back through key moments from his career and family life. He looks at depression through many different lenses, whether it's his relationships with others but also through conversations with psychiatrists and other mental health experts. After his time in Number 10, Campbell has applied his drive and focus to arming himself with the latest thinking on how to manage depression.
In itself, the book is a refreshing challenge to the way we talk about mental health. When a leader discusses their achievements despite setbacks with their physical health they are seen as a hero. We need to treat leaders who talk about their mental health in the same way- and as a society I'm not sure we're there yet. I hope we can move from a 'yes but' to a 'yes and' narrative about mental health, and that's exactly what this book embodies.
Towards the end of the book Campbell shares lots of practical advice about what's worked for him in managing his mental health. I loved his jam jar idea, which he uses to illustrate how we can end up overloaded and ill if we experience too much stress- but we can extend our jar's capacity with 'protective rings' including sleep, exercise, eating healthily, doing fulfilling, rewarding work and spending time with friends and family.
For anyone managing their mental health this book shows you're in good company and offers great advice to improve it.
Failosophy by Elizabeth Day
I am a huge fan of Day's superb podcast How to Fail which celebrates when things haven't gone right and asks celebrity guests to share what they have learned from their experiences of failure.
Day often talks about how there is no success without failure, and every leader (including me) has failed somewhere along the way. I honestly think that if we talked about this more then it would help open leadership up to a new generation of people who may be discounting themselves for not being perfect enough. To be frank with you, early in my career I doubted whether I was 'good enough' to ever be a leader and Day's podcast (and this book) challenges the notion that anyone is superhuman. We are all stronger, better people when embracing our flaws and vulnerabilities.
Failosophy covers the highlights of what Day has learned from her podcast. In it she outlines 7 principles about how to deal with failures and learn from them. If I'm having a bad day I like to remind myself of the principle that 'failure is data acquisition.'
This is a compassionate book which urges us to be kind to ourselves when everything around us is going wrong. If ever there was a time for that message, it is now.
More Than A Woman by Caitlin Moran
This was an uncomfortable read for me, purely because Moran nails a lot of what I recognise in my own life. She describes how middle age for women means shifting gears into being 'the fourth emergency service' for everyone else. Whether it's friends divorcing, parents in ill health or children approaching teenagerhood it can feel like firefighting on all fronts. Solving these problems plus the next level multitasking and ever growing to do lists that accompany this phase of life can take its toll on mental health.
This is a book I'd heartily recommend to all the female leaders I know but also anyone in middle age who has caring responsibilities. The subjects that Moran describes, such as helping a child with an eating disorder or body shaming are dark and difficult but she treats them all with a skilful lightness of touch and wit.
I adored this book and it is an uplifting read for leaders who are frantically multitasking through their day before wrangling their children into bed afterwards.
Which books have helped you with your mental health?