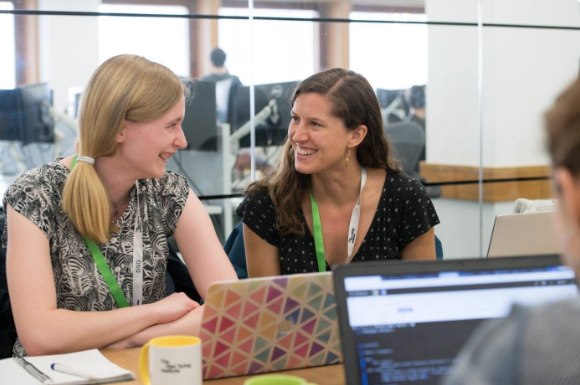 We were delighted to interview Erin Young, Turing Research Fellow on the Women in Data Science and AI project, within the Public Policy programme at The Alan Turing Institute, about their new Diversity Dashboard. 
1.Why is diversity such an important issue for AI and data science?
The diversity problem in the tech industry is not new. But the rise of data science and AI has brought with it worrying new ways that imbalanced representation in the sector can harm those left out of its design and implementation. AI is beginning to affect almost every aspect of our daily lives, and algorithms have the potential to impact key decisions around public spending, the workplace and society. Yet there is a troubling under-representation of women and minorities employed in the sector, designing and developing these AI and machine learning systems. Although precise figures for women in the workplace across these areas do not exist for the UK (a problem in itself), according to most estimates women comprise only around 17% of the broader technology sector.
This under-representation can reinforce pre-existing gender stereotypes found in everyday life. As technology inevitably reflects the values and experiences of its developers, the lack of diversity shapes the resulting technologies, coding them with biases and setting up a dangerous feedback loop. It is also important to note that this is not only about diversity of teams, but also about recognising diversity in datasets. Algorithms trained on incomplete or prejudiced datasets, such as those resulting from the gender data gap, have been identified as a worrying source of bias in AI technologies.
The Women in Data Science and AI research project, within the Public Policy programme at The Alan Turing Institute, is working to map the participation of women in data science and AI in the UK, and to investigate diversity and inclusion in technical and workplace cultures, and bias in the design of AI systems. The project will use this new research to inform policy aimed at increasing the number of women in data science and AI, thereby working towards mitigating the risks posed by the lack of diversity in the fields.
2. What will happen if nothing changes?
It is imperative that we tackle this issue now. If AI continues only to be produced by the few, for the many, it risks further reproducing and amplifying existing inequities. As Fei-Fei Li, a prominent researcher in the AI field, explained simply: 'bias in, bias out'. Some recent examples of AI propagating gender biases include 'sexism' by the Goldman Sachs-Apple card; facial recognition software that successfully identifies the faces of white men but fails to recognise those of dark-skinned women; the proliferation of 'subservient' digital voice assistants gendered as female, such as Siri and Alexa; and a hiring algorithm designed by Amazon which was found to discriminate against female applicants, to name a few.
Alongside the emergence of gender-biased AI, there are also further significant ethical, economic and governance-related issues which could worsen if not addressed promptly. For instance, if stereotypes around who is 'suitable' to work in the tech industry persist, women and other under-represented groups risk being denied access to the newly created AI jobs. These jobs are set to be the well-paid, 'prestigious' and intellectually stimulating jobs of the future. As such, being excluded from these opportunities means missing out on the economic and social capital that comes with them. A key aim of our project at the Turing is to motivate further research and policy measures towards achieving gender equality at this important juncture in the development of data science and AI.
3.Tell us about the Diversity Dashboard
The Diversity Dashboard is a tool we have developed which offers insights into gender inclusion within tech workplaces. We designed the Dashboard for use by tech companies, and it runs on top of GitHub and Slack – two common tech workplace tools. The idea behind the Diversity Dashboard is to measure and highlight differences between the treatment of men and women in the workplace, whilst keeping privacy front of mind, both for the companies and the employees. 
The tool can examine, for instance, whether women are assigned 'issues' (that is, issues that need to be resolved in the code such as bugs or enhancements) on GitHub with the same frequency as their male colleagues, and whether they receive as many replies to their messages on Slack. We are particularly excited since this is the first such tool to run on top of internal workplace software which offers real-time insights into the dynamics of gendered interactions between employees.
The Dashboard is intended to start a conversation about how we can make workplaces more inclusive for traditionally under-represented groups. We hope to shift the focus away from 'getting women into tech', that is, the 'pipeline'—although this is of course important, too—and towards 'making tech less exclusionary towards women.' The tool is currently available for companies to trial, and we welcome design feedback! A full demo video is available here, and if you are a company interested in trialling our beta Dashboard web app, please do go here to begin using it.
4.How can women in tech get the most out of your online hub?
We have gathered an extensive set of resources for women and other under-represented groups to help them get into tech and build their AI and data science careers on our project's UK online hub. The hub, which we proudly launched on Ada Lovelace Day in 2019, also offers information concerning the creation of ethical and equitable AI, gathers news from related organisations, and showcases the latest research from our Women in Data Science and AI project. You can sign up to our mailing list via the hub page to be kept up to date with our work.
We will also publish two new and exciting reports on the hub soon—one of which is an overview report for our project. This includes original research into the representation of women in data science and AI in UK academia, and on the demographics of users of online data science platforms. We will also publish a paper in 2020, prepared for UN Women, with policy recommendations.
5. What can we all start doing today to create more diverse representation in tech? 
There are a few simple things that we can all start doing today to begin to foster more diverse representation in the tech sector, and in particular in the data science and AI fields:
Approach your company or organisation and start to ask the hard questions—not 'where are the women?', but 'why are we not attracting—or retaining—women?'. Think about, for example, how parental leave and other 'caregiver-friendly' policies might be a factor.

Encourage and support initiatives and interventions to tackle gender (and other) biases across all facets of work life, including hiring and meeting practices. For instance, you could encourage, and even work with, HR to review applicant and interviewee numbers; begin to foster recruitment processes that engage in intentional outreach efforts to seek out diverse candidate pools; set concrete diversity targets, and if you aren't attracting enough candidates consider implementing on-the-job training schemes; and ensure women and other minorities are formally given credit for their ideas and contributions during meetings.

Request or implement diversity and inclusion training for employees, such as active bystander training.

Challenge harmful stereotypes and implicit or unconscious biases in your day-to-day when you see them.

Organise meetings that are safe spaces for women (and men) to highlight (gender-related) workplace culture issues.

Check the physical environment of your workplace matches the needs of employees, for example, some gender-neutral toilets and wheelchair accessible entrances. If it doesn't, say something!

If you are in a leadership position, strive to 'make visible' how things are done in practice. For example, after the completion of team projects or tasks, review

how

decisions were made and by whom, and use this as a springboard for more inclusive practice so all voices can contribute to decision-making in the future.

If you own a company, provide leadership and mentorship opportunities for women and promote their efforts.
And of course, your company can partner with us to trial the Diversity Dashboard. We have just launched a beta web app version of the Dashboard, which is available via our site.
More information about The Alan Turing Institute's  Diversity Dashboard beta tool:
Runs on top of internal workplace software (Github and Slack – two common tech workplace tools) and is the first such tool that offers real-time insights into the dynamics of gendered interactions between employees.
Measures and highlights potential differences between the treatment of men and women in the workplace. It is designed to provide insights into how to improve inclusion, whilst keeping the privacy of both companies and employees front of mind.
Aims to improve understanding around the attraction and retention of diverse tech talent, making workplaces more inclusive of traditionally under-represented groups, and rendering the broader tech industry less exclusionary towards women and minorities.
Is now open for companies to trial using data from Github and Slack accounts – and feedback is welcome.