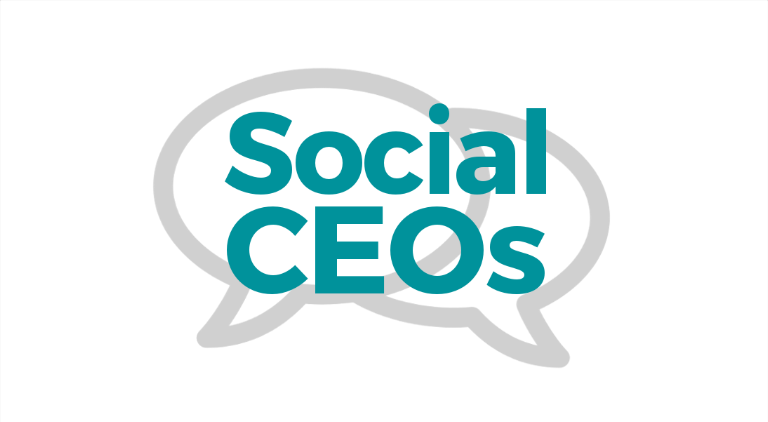 Nominations open today for the 2017 Social CEOs awards. You may have seen my piece about it in The Guardian Voluntary Sector Network this morning which discusses what the impact of having more charity leaders on social media would be. As Paul Breckell, CEO of Action on Hearing Loss says, using social media well equals more social impact.
Who can enter?
Over the last 5 years we have had so many amazing winners, including Chris Askew of Diabetes UK, Jan Tregelles of Mencap and Steve Ford of Parkinson's UK.  The awards are open to leaders of any registered charity, of any cause or size, based anywhere in the world. As ever we are really keen to see a diverse range of nominees.
What awards are on offer? 
We offer 4 awards to recognise individuals' social media presences in the following  categories:
Top 30 CEOs on social media (from which the judges will also select an overall winner)
Best trustee
Best senior leader (director or equivalent i.e. head of)
Best rising star (senior manager/manager level)
In addition, for the first time this year we are offering 2 new awards:
Digital CEO
Digital leader (trustee, director, or head of)
More about the new digital awards 
Charities have come a long way with digital since we started the awards back in 2013. Whilst there is still scope for more leaders to use social media and do it well, it's really important to my co-founder Matt Collins and I that the awards continue to challenge the sector to raise it's game across all digital channels. That's one of the main reasons why we set up the awards in the first place.
The 2 digital awards therefore have a wider focus than the others. To win in one of the social categories you need to be, obviously, really good on social media. But the awards have always been about leadership as much as channels. As previous winners have shown, social media is a real test of how you communicate as a leader, how you influence key stakeholders and how willing you are to put yourself on the line to fight for your charity's cause.
In the digital categories we're looking for excellence of wider digital leadership. We'd love to have nominations from charity leaders who are blazing a trail in any area of digital. For example: they could have led a digital transformation project, or helped their organisation increase its digital fundraising, or be a trustee who helped champion digital, getting the rest of their board and the charity to use it more effectively. They'll have had a clear vision for how their charity could progress in digital and led the way to make it happen. We'd like you to provide some concise information on the nomination form to show how they have made a difference. As such, whilst it would be great if nominees in the 2 digital categories are great on social media as well, it's not imperative in the way that it is for the social categories.
How do I make a nomination?
Nominations can be made here. It is free to enter. Please send us your nominations by midnight on Friday 29 September.
Who's supporting this year's awards?
We're delighted that the 2017 Social CEOs awards are in association with JustGiving, our lead sponsor.
Founded in 2001, JustGiving is the world's most trusted online giving platform, with over 26,000 good causes raising more than £3.5 billion to date. Whether you're looking for a simple way for people to donate and fundraise online or want to launch a crowdfunding campaign for an online appeal, we're 100% committed to giving charities like yours more ways to raise more money, so you can change more lives. Discover how your charity can grow on JustGiving at www.justgiving.com/charities
We're also delighted that Lightful are sponsoring our awards.
Lightful is a technology company for social good, born out of a determination to bring innovation to our sector, which we believe deserves it the most. Technology can help to build more meaningful, impactful and delightful relationships and we have designed a social media and campaign management platform specifically with and for beyond-profits https://www.lightful.com/
TPP Recruitment are also sponsoring the awards again.
TPP Recruitment is a specialist consultancy dedicated to supporting not for profit organisations, including charities, professional membership bodies and cultural institutions, as well as education, health and social care providers.
TPP consultants use their experience, specialist knowledge of markets and company principles to provide an exceptional service to both employers and jobseekers. They cover temporary, contract and permanent recruitment at all levels including CEO and Board search.
We are also delighted that Grant Thornton UK will be returning as a sponsor.
Grant Thornton's charity and not for profit team provide bespoke audit, tax and advisory services to over 1000 organisations around the UK. Ranked third by income audited, our accredited specialists work from seven regional locations to ensure our clients are serviced by knowledgeable staff who are kept abreast on all charity sector and technical issues as they arise. Our involvement in the sector is vast including an annual seminar programme NFP Connect, NFP Interchange, our Non-Executive Forum for Not for Profit organisations, membership of the SORP Committee, authors of thought leadership including a leading publication looking at governance in the top 100 charities as well as regular speaking and attendance at all key sector conferences.
We're grateful to JustGiving, Lightful, TPP and Grant Thornton for their support.
The Guardian Voluntary Sector Network is our media partner for the awards. It's a space dedicated to those working in or with the voluntary sector. Join for free to benefit from exclusive insight and thought leadership, news and connections that will enhance your career. Register now.
Who's on the judging panel?
Simon Blake, CEO of the NUS has returned for the 5th year as Chair of judges. He joins our panel, who are:
Lang Banks, WWF-UK Executive Director
Ruth Ibegbuna, CEO of RECLAIM Project (and last year's Social CEO of the year!)
Jo Wolfe, Managing Director for London at Reason Digital
Lucy Caldicott, CEO of UpRising
Clive Gardiner, Head of Digital at NSPCC
What happens next?
This year's awards will take place at JustGiving on the evening of Thursday 16 November. But if you can't make it, don't worry. The results will be unveiled officially in the press the morning after.
How do I get my CEO/ board/ executive team to use social media?
We'll be producing more content this year to help your colleagues win at social media. This will be published when we announce the winners in the press on 17 November.
We look forward to seeing who you think is brilliant on social media and digital. But remember: the deadline is midnight on Friday 29 September , so do send us your nominations!