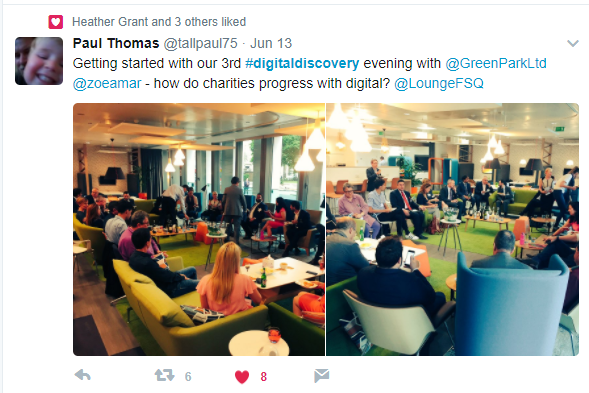 Last week we held the third event for Digital Discovery, our new community to help charity leaders discuss the opportunities and challenges they face in digital. We're delighted to run Digital Discovery in partnership with the Charity Commission, Grant Thornton UK and Green Park. Here's what happened at the last event.
This time we heard from Jo Wolfe, Assistant Director of Digital at Breast Cancer Care, Alison McCormack from We are MC2, who is currently working with Action on Hearing Loss, and Gareth Germer, Executive Director of Transition at Samaritans, who shared how they are leading digital change in their organisations. The feedback about our speakers was fantastic and we were very impressed by the quality of the insights they shared. They were all very open about the challenge that digital transformation poses but encouraged delegates to see it as a manageable process which will make their charities more sustainable and relevant.
Jo, Alison and Gareth asked a lot of thought provoking questions of our group including: is there a digital skills deficit amongst trustees, and what can charities do about it? What role should beneficiaries play in digital transformation? How can you get your leadership team to engage with digital? And what does digital mean for your charity's value proposition? This was followed by a lively group discussion.
We were really pleased to see what charity leaders said about the event: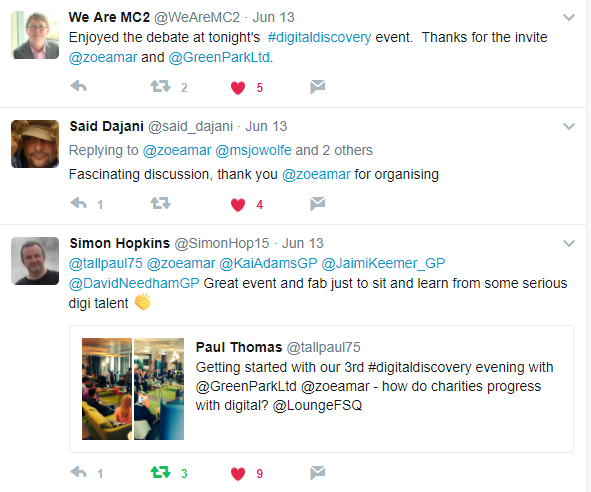 At Digital Discovery our goal is to make sure charity leaders get lots of practical advice about how to tackle digital. We also want  them to be inspired by the possibilities.


We are now planning the next events in September/ December this year. The events are by invitation only and each one is for a small group of charity leaders, so that everyone feels comfortable raising their hopes and fears about digital.  If you would like to attend, please drop me a line on [email protected]