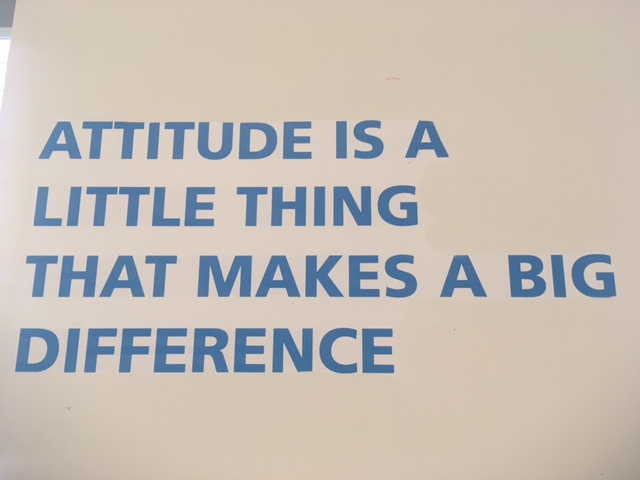 Last week we were delighted to welcome senior delegates to the second cohort of our Third Sector Digital Leaders' programme, which we are running in partnership with The School for Social Entrepreneurs. It's aimed exclusively at the leaders and senior management of charities and social enterprises and is one of the first programmes of its kind in England.
We were very impressed by the appetite of delegates to learn more about digital, and it was interesting to hear from them how the pressure to do this has started to come from within leadership teams, and not just from digital colleagues. Here's a quick round up of the main things we learned on the course.
To set the scene, we looked at the main findings from The Charity Digital Skills Report which we co-wrote with Skills Platform. Then we moved onto discussing key opportunities and challenges affecting all sectors.
Paul Thomas, Head of Social Business at Grant Thornton UK, talked about the main trends from the corporate world and what charities and social enterprises can learn from them. He discussed 'Digital proofproints' and how leaders in any organisation need to answer the question: 'You say you're an expert. Where is the proof if we Google you?' He also discussed digital strategies and how they need to live within a business, not just be a piece of paper. Finally Paul touched on whether it's possible to replicate what a CDO does by providing digital leadership in different areas of your organisation. Paul advocated a 'tight and loose' approach where there is good governance but space for people to innovate.
Dominic Campbell, MD of FutureGov explored trends from the public sector. Our delegates particularly liked his definition of digital as a mindset, and how digital is 'about business models and approaches to solving problems.' He warned against approaching digital as doing 'a nicer version of the same thing.' Dominic felt that a digital strategy is just the start. Organisations then need to restructure themselves and reduce institutional cost once they have this in place.
Next, Julius Honnor from Contentious shared his thoughts on content, and how charities need to move from broadcast to conversation. He thinks there is a gap in the market for charities who 'want to change things but want to become more focused on user experience.' Julius also made a lot of interesting points about how content is the lifeblood of charities but is so often seen as the poor relation.
We then moved onto a session on digital fundraising with Becky Steeden, Social Media Manager at the RNLI. Highlights from Becky's session included:
How charities need to focus more on impact and storytelling, not just transactional content that serves an internal need (e.g. a thank you to a corporate partner or a campaign announcement).
Charities need to share the right social content to 'create fertile ground' for fundraising asks. Impact and storytelling content is a big part of this.
The RNLI plan content based on audience research, learning from analytics, and their in-house recipe for weekly content success.
Charities need to create working hypotheses about content and what works/doesn't work, then test them.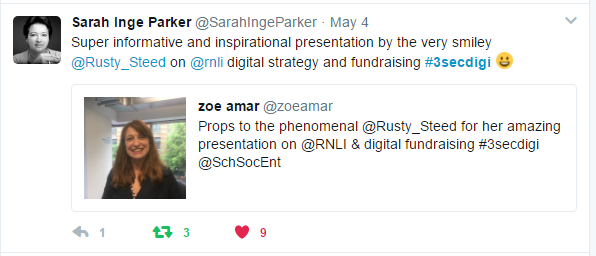 On Day 2, following a session from me on how nonprofit leaders should develop their social media presences, Robin Lord of Distilled ran a really good, practical session on digital crisis comms. We learned that:
'Crisis comms is sprint training for your organisation.' Love this idea.
Make sure you have someone on your senior management team who can support you in a crisis but doesn't necessarily have digital in their job title.
Your staff need to be aware that they are representing your organisation at all times when on social media. As Robin put it, 'they are wearing your charity's badge and writing on company paper.'
Everyone involved in a crisis needs to know what their roles are. These should include: community manager, external and internal comms leads and senior management.
Tone of voice is critical in a crisis. What do you want stakeholders to think/feel/do?
We finished Day 2 with a brilliant session from the legend that is Julie Dodd, Director of Digital Transformation and Communication at Parkinson's UK, on digital transformation and culture change. Julie told us that:
Charities need to decide if they want to embrace digital and thrive- or become obsolete.
You need a definition of digital transformation that is specific to your organisation.
The big challenge is 'to make staff curious but not afraid.'
Digital can help charities achieve their purpose at greater scale.
Visible change helps. At Parkinson's UK people can see all Parkinson's related Google searches in real time on a big screen in reception.
Switching up your office environment can create culture change. This doesn't mean moving offices, but will include having more co-working spaces.
Create somewhere in your office where people can try and break your business. Parkinson's UK have a lab where staff can come in and try new digital products.
Be prepared to kill projects off that aren't working. What is the one thing you could stop right now?

We're really excited about the next block in June, where we'll be looking at data, digital service delivery, digital skills and how delegates can develop their own strategies.

We've had so much interest in the course that we're already preparing to run it again later this year. Find out more about Third Sector Digital Leaders.