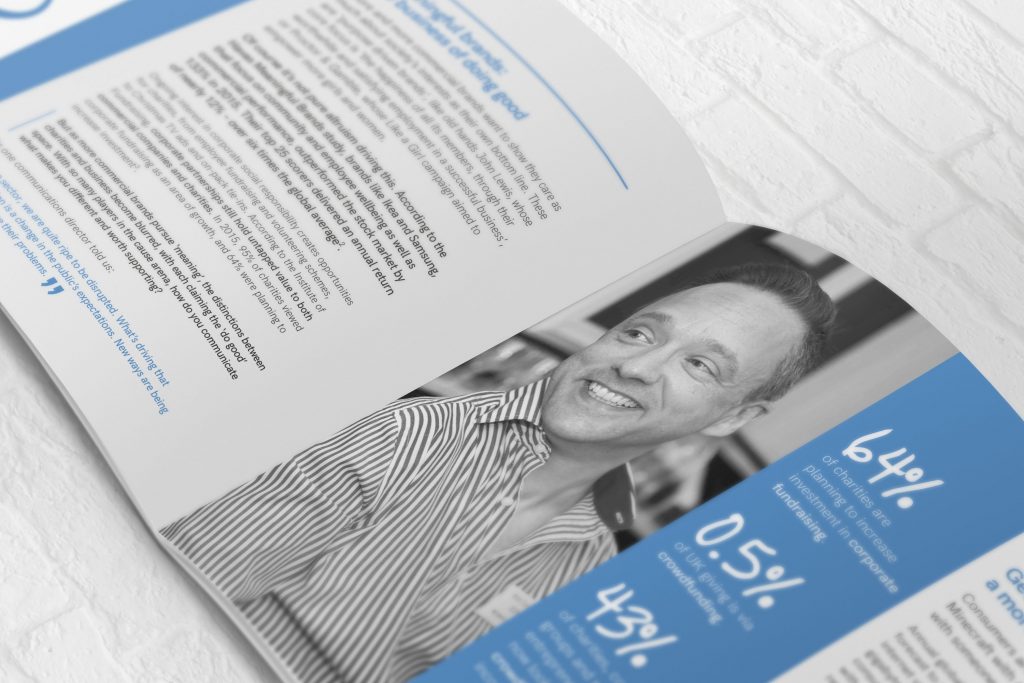 We're delighted to feature a guest blog from Sarah Fitzgerald, (@SarahatSelf) the author of Whatever Next? Public Engagement in 2022, director of Self Communications and Chair of the Miscarriage Association. Sarah is also one of our associate consultants. 
Now people can satisfy their sense of social purpose without signing up as a card-carrying charity supporter, what does that mean for the sector's financial future, or ability to bring about change?
That's one of the questions I've posed in Whatever Next? Public Engagement in 2022, published last week by CharityComms and Eden Stanley. I wrote it to help charities think about their engagement strategies, drawing on a range of sources including past research, future forecasts and insights from senior communicators within some of the UK's leading charities.
Our research showed the position of charities in the public psyche is under pressure as never before. Trust in charities is proving to be more fragile than we would have imagined even five years ago. Added to that, there's now competition from private companies with a social purpose. From buying from purpose-driven brands to contributing via crowdfunding, doing good is good business, and charities no longer have the monopoly.
The challenges are many. For a start, there's a distinct generational shift in the way potential supporters will be engaging with you over the next few years, with more charities competing in what's been called 'a self-actualisation market place'. Added to that, media channels will continue proliferating, with greater risks that we end up the wrong side of our supporters' filter bubbles. Meanwhile, technology is enabling more direct communications between people regardless of physical distance or whether they've even met in real life. For charities that have traditionally acted as the link between supporters and beneficiaries, this raises a question about your very existence. Fewer of us turn to travel agents to book our holidays. So why look to charities when it comes to doing good with our money or time?
The result of all this is that the question of why people should engage with charities is becoming harder to answer. The charities that stay relevant and able to sustain themselves – even thrive – are the ones willing to try new ways of providing a genuinely exciting and differentiating proposition, able to capture their supporters' attention and inspire them to act.
The potential is there. While some audience and media trends are challenging us, others present us with incredible opportunities. Virtual reality (VR) can bring supporters closer to the world of our beneficiaries, and digital media will soon offer unparalleled opportunities for targeted communications. Alternative funding models like crowdfunding and peer to peer finance are only just beginning to show their potential for charities, and there's still room for growth in the number and size of partnerships with commercial companies looking to make good on their ethical credentials.
We just need to think differently. But the view among communicators is that much of our sector still lacks appetite for innovation, or the culture to achieve it. As public funding shrinks and consumer confidence remains fragile, short-term fundraising targets become the focus for many boards and executive teams.
But failure to innovate will leave you vulnerable, especially now. Your challenge is to experiment with new modes of engagement, while minimising risk to the status quo. It's a tough brief, but not impossible.
Can you identify a pot of money – however small – to pursue a few projects through the early stages, with clear metrics that allow learning and speedy decisions on whether to keep going? Is there a route through digital to transform your charity's approach to supporter engagement? Are you capturing ideas from across the whole charity, or is it only the executive team who get to come up with suggestions? You need to find a way into innovation that is right for you.
Read Charity Comms' report Whatever Next? Public Engagement in 2022